We have already talked about decentralized finance (DeFi) several times, but mostly in our book. The thing is, this phenomenon is very much like the period in 2017, when ICO (Initial Coin Offering) was a huge deal. DeFi have a huge potential to not only stay in the crypto world, but also to change it completely. Ethereum also benefits from the fact that DeFi is growing, as according to various studies, up to 90% of existing DeFi projects are built on this platform. We can therefore conclude that the growth of Ethereum and the constant overcoming of ATH is also thanks to DeFi.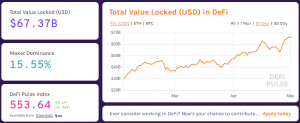 In the image above, we can see the Total Value Locked (TVL) tool from DeFi Pulse, which is one of the most reliable performance indicators for this decentralized industry. It is clear from this figure that interest in decentralized financing (DeFi) is not fading, as April is the most successful month in history, with the value of DeFi currently holding more than $ 67 billion.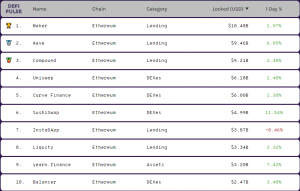 In the next picture we can to see the beautiful dominance of the cryptocurrency Ethereum. In the first place is the DeFi project Maker, worth $ 10.48 billion, followed by Aave for $ 9.46 billion, and in the third place is the Compound project worth $ 9.21 billion. Ethereum really dominates this industry and it does not seem that this should change anytime soon.