Ethereum has managed to successfully reduce transaction fees several times in the last month. Of course, this cryptocurrency has a long way to go, but the gradual reduction in transaction fees is very encouraging. It has only been a few weeks since Ethereum was heavily criticized for its high fees. However, it didn't take long and the management of the most valuable altcoin was able to fix its reputation.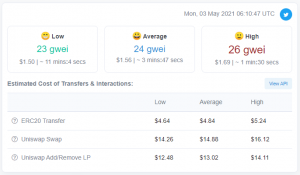 To give you an idea of ​​what the numbers were, the average fee for an ERC20 transaction was $ 30.38 and for Uniswap Swap it was $ 93.46. With these numbers, we are not really surprised by the great criticism that started towards Ethereum. Today, however, as we can see in the picture above, it is much better. The average transaction fee for the ERC20 is $ 4.84 and for the Uniswap Swap it is $ 14.88, which is already a significant difference.
At the time of writing, Ethereum has managed to exceed $ 3,000 and its current price is $ 3,092.65. Do you also hold this cryptocurrency?