Information
Kraken is a stock market in Canada, the EU, Japan and in the USA. It is the largest bitcoin currency exchange with the Fiat currency €. It enables SEPA to convert to fast payouts within one business day. It also supports the latest Bitcoin Cash (BCH). It offers dual authentication with Google Authenticator and mobile app for Android and iOS. Thanks to the API key and connectivity to external applications, it also provides fast trades. Verification terms and limits are very acceptable set.
Registration
   Registration is very simple. Open https://www.kraken.com/ and CREATE AN ACCOUNT or click to SIGN UP.
   Fill in:
E-mail
Username
Password
Checkbox
   After that, click to SIGN UP, which will take you to ACCOUNT ACTIVATION. The activation link and activation code came to your email. Click the activation link or copy the code and enter it into the activation form.
   Fill in the password, reCAPTCHA, and activate the account with the ACTIVATE ACCOUNT button. You will then be redirected to your account page.
VERIFICATION
   Verification of documents, addresses, and phone numbers is important for safety reasons. For verification, click GET VERIFIED.
   You will see a verification page where the verification level is divided into five levels (Tier 0-5). After registering, you are in Tier 0. Every level adds more work to Kraken. Kraken requests further information from you to meet KYC/AML's legal requirements. Each additional level increases the possibilities and limits of deposits and withdrawals.
VERIFICATION, Tier 1
Fill in:
Name surname
Date of birth
country
phone number
Verification Tier 1 will be confirmed in the shortest possible time.
   After confirmed, it is possible to trade with cryptocurrencies. It is possible to insert an unlimited amount of cryptocurrency and select $ 2,500.00 per day and $ 20,000.00 per month. Deposit and withdrawal from a bank account are not possible.
VERIFICATION, Tier 2
   Verification of home address. Fill in all required form fields:
Address Line 1 – Your permanent address
State / Province / Subdivision
City
ZIP / Postal Code
   By verifying the address, you raise the limits and add the option to enter and withdraw money from a bank account.
VERIFICATION, Tier 3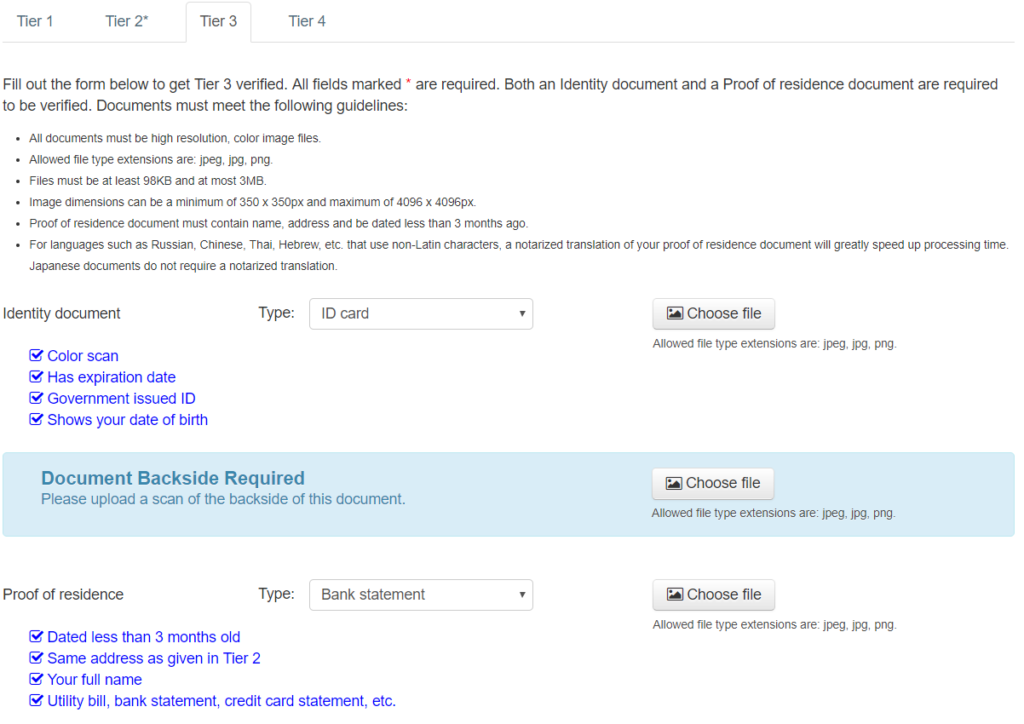 For money movements with bigger daily and monthly limits, you need to upload the photo of personal documents:
Identity document
ID card
   It is also necessary to upload the reverse side of the ID card
Drivers' license
Passport
Proof of residence
Utility bill (bill with your address) – Invoice for mobile or internet, invoice for buying through eBay, Alibaba, GearBest, Amazon (of course with your name and address)
Bank Statement
Credit Card statement
Proof of residency certificate
   Comparison: For comparison, Kraken with Coinmate.io = both companies can serve to buy and sell Bitcoin using a Bank Account (SEPA), but with Coinmate.io it is possible to verify only with a passport. Therefore, for people who do not have PASSPORT, there is an alternative to KRAKEN, where verification can be done with multiple options. The advantage of Coinmate.io is used by the FIO Bank for SEPA, which is the Deposit and Withdrawal from this Czech-Slovak bank within a few minutes.
VERIFICATION, Tier 4
   To further increase the limits, you need to contact Kraken Support where they can raise your limits.
Deposit
   To insert money on Kraken, click on the Funding button and a page for realizing the Deposits Cryptocurrency or Fiat Money $, €.
   In the left sidebar you can see all options for a deposit in cryptocurrency or Fiat.
Deposit via Bitcoin BTC (XTB)
   To deposit Bitcoin cryptocurrency, click on Bitcoin XTB (XTB is the BTC Mark for Kraken), usually BTC is used. On this page, you must first generate at least one BTC address by clicking the Generate new address button. Address can generate more than one, but if you generate more than 5 BTC addresses, the first generated will expire after 7 days and you will only have 5 BTC addresses again.
   Note: Be careful not to have an address entered somewhere to pay, and after expiration, Bitcoins will not reach that address. So do not create more than 5 BTC addresses so far, if you do not need new ones!
   When you click QR Code, you see the QR code, which can be scanned by your phone into a bitcoin wallet or copied the address directly into the internet wallet. The minimum bit-sum amount for DEPOSIT is 0.0001 BTC.
Deposit € via bank account
   On the Deposit page, click in the left sidebar on the Euro.
   In Deposit Method you will choose:
   Fidor Bank AG (SEPA) – for a fast cash payment in € in the European Union
   Fidor Bank AG (Wire Transfer) – This is the second option to send money by wire transfer (we recommend using only SEPA payments in Euros)
Below you will see information for making your SEPA payments at your bank:
   In your bank, you choose SEPA and fill in the data from the KRAKEN page.
   When making a payment, be sure to fill in everything correctly in your bank. Some SEPA do not have to contain all items from your Kraken payment data. Fill in everything you can see in the Picture.
   Important notes:
   Reference – your ID number. This must be completed so that Kraken identifies you. For sure, enter this code in "Manage for the Flyer" and also "Note". Be sure to describe the Reference code from Kraken with "kraken.com" at the end !!!
   Make sure that the amount sent in € is within your limits in the Bank and also the Kreken verification limits !!!
   If you send DEPOSIT to Kraken several times in turn, give a different SUM to avoid misunderstandings on Kraken.
Important !!! The name of the bank account owner must be the same as the Kraken account.
   After successful receipt of € via SEPA payment a confirmation e-mail will be sent via email.
Withdrawal
   To withdrawal money on Cryptowallet or Bank Account, click the Withdrawal button in Primary or Secondary Navigation, and you'll see a page for realizing Withdrawal  cryptocurrency or Fiat Money.
Withdrawal BTC (XTB)
   At first, you have to add at least one BTC address. Fill in Description and Bitcoin address and confirm adding an address to your email.
   After verifying the addition of a new address, you can withdraw money from your bitcoin address.
Withdrawal to Bank Account (€)
   Click on the left sidebar to the Euro and it opens SEPA Withdrawal. Click Add account to see a form to fill in your bank's basic bank details.
   It is best to use the data directly from the bank's website. Double-click the entry and COPY / PASE put it directly on Kraken into the desired rack.
   Once you've added your bank account for a withdrawal, you can withdrawal € within the verification limits.
Two-Step Authentication
   To ensure high security, two-step authentication can be enabled. You can turn it on by clicking navbar on Security, then clicking the Two-factor Authentication button. You choose the mode where to apply authentication:
Account login
Trading
Funding
Master key
   After adding a Kraken account to a Google Authenticator, you type the code into Password and click the Confirm button. Double authentication is set to the selected mode.
Trading
   For "Trading" buying and selling cryptocurrencies, click the New Order button in Trade, click on New Charting & Trading Tools (BETA) to view the graph trading page.
Account balance
   The Kraken Balance Account in Bitcoin (XBT) and € you see up in the middle next to the logo.
Buy
   For a simple purchase, choose the cryptocurrency you want to buy or sell to top left and fill in the value fields. Then click Buy XBT with EUR >>. You'll see your check-in information and confirm the Buy Order.
Sell
   To sell Bitcoin to €, click SELL to fill in the data.  After filling in, click the Sell XBT for EUR >> and confirm the Submit Order.
Alternatives
   Kraken is a stock market that does not support a large number of cryptocurrencies, but it allows you to deposit and withdraw Money by SEPA payment, which is an advantage for countries in the European Union. A similar alternative with the option to deposit and withdrawal is Bitstamp. Poloniex, which does not need demanding verification procedures for depositing and selecting small amounts, is also suitable for fast trades. For convenient SEPA purchases from FIO Bank, Coinmate.io is suitable.