You have certainly not missed the news in recent months that the Central American country of El Salvador has adopted Bitcoin as legal tender as the first country in the world when its president, Nayib Bukele, introduced a new law. This information has literally traveled the world, and according to the latest information, it does not end with the cryptocurrency Bitcoin, and the country is reportedly already working on its own alternative, just like many other countries in the world, making the world more and more digital.
The well-known Coinmarketcap portal recently surveyed on this topic, asking people which other country they thought could accept Bitcoin as legal tender. Of course, this survey should be taken with a grain of salt, as ordinary people do not decide on such essential information, but it is still very interesting to read the results of this survey.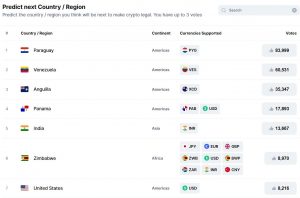 As you can see from the list above, the states of South America appeared in the first two places, which is no surprise, especially in the case of Paraguay. This country plans to go hand in hand with the new generation and is essentially open to the same scenario as in the case of El Salvador. However, the two countries that appeared on this list were particularly surprising. These are, in particular, the United States and India.
The latter state, as you know, still does not have a uniform regulatory framework, and both countries do not have a completely friendly approach to cryptocurrencies, although they are now allowed in both countries. In India, however, there is still the question of whether this will continue to be the case, and in the case of the United States, it is a bit more complicated, as each official or governor has a different view of cryptocurrencies. What do you think – which other country will accept Bitcoin as legal tender?